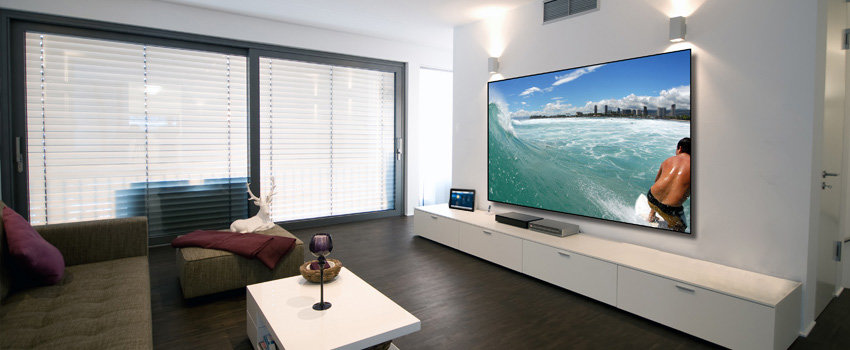 09 Sep

4K is Redefining Home Systems in Time For Football

Now is the time when football fans start making predictions about which teams and players will soar during the regular season, and which will flop. When it comes to 4K television's emergence onto the home theater market, the interactive experts at eInteractive urge you to believe the hype, and to make your move now to install the latest 4K technology in your home.

What makes a television 4K is that the images come in at around 4,000 pixels wide. In total, a 4K image has about four times as many pixels as your standard full HD 1080p picture. With such an upward jump in pixels, the clarity of the picture from frame to frame is truly astounding. Enjoying a professional football game on a 4K television is a veritable quantum leap in home entertainment. You don't watch the game – you experience it.

You experience every bone-crunching and every miraculous touchdown in super sharp images that pick up on every minute detail. This is how 4K is already taking image quality to a whole different level, and redefining home theater systems one pigskin Sunday at a time. Football is a sport that was made for television, and with breakthrough 4K technology sweeping across the country, more and more homeowners are seeing a side of the game they've never known before.

The best preseason move that you can make is to opt for a 4K television, so you can enjoy an entire season's worth of cutting-edge audio visual displays and graphics from the comfort of your own home.

About eInteractive:

eInteractive is a leader in high end home theater design and installation, whole-house distributed audio, lighting and shade control as well as home automation systems. When you're committed to the best entertainment systems, you know where to find us.

Whether you're a homeowner interested in installing some motorized shades, or a business owner in need of digital signage, eInteractive can help find the right solution for your technology needs. To learn more about their services, call (855) 41-SYSTEM today or learn more about our home theater and audio video website.