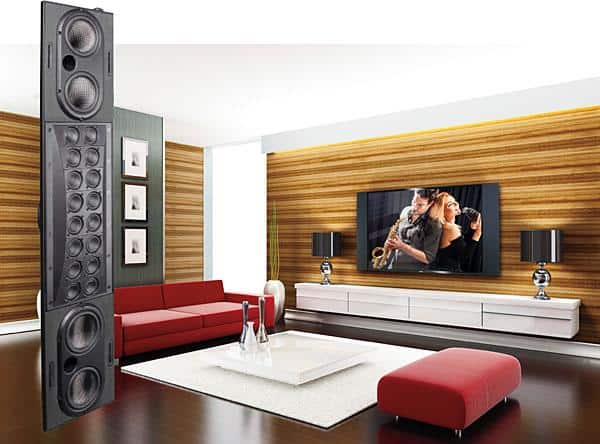 11 Jun

Savant & Artison Speakers Will Stun You

With Savant acquiring Artison back in August of 2017 many home entertainment enthusiasts rejoiced as a formidable entertainment duo was born.  Savant is now not only able to tweak lighting and temperature settings to your liking, but with the addition of Artison's multitude of high quality speakers, they are able to provide a truly complete home entertainment experience. With the unique functionality of tuning everything to your liking from your phone, Savant's products are a no brainer if you're in the market for the very best in home theatre immersion.
Dual Center Speakers & Sound Bars
Artison's dual center speakers and sound bars come with outstanding performance right off of the bat, but they also boast the ability to seamlessly disappear behind any television while providing booming left/right/center (LCR) audio to boot.
Dual Center LCR Speakers
Artison's speakers are truly something spectacular, packing line array technology from the brilliant designer Cary Christie, as well as, the depth and richness of the Sketch and Portrait models. Each of Artison's dual center LCR speakers succeed at delivering high quality sound while also remaining incognito with exquisite custom grilles that pair well with nearly any flat panel display. These speakers are more than capable of creating a noticeable center image in any room, while also leaving the decor unblemished. Fear not, because they also come with a unique side-firing contour to help bring about a true cinema experience.
Sound Bars
For those of you interested in a sound solution that sits right underneath your TV Artison has just the thing for you, it's called Studio. Every one of these polished Studio sound bars can be fitted with a custom-sized grille to completely match almost any TV width. Not only that but the grille can also come with a custom cutout in the case that there is a logo mounted underneath the TV. Artison Studio soundbars are available from a variety of 4 sizes: The Studio 39, Studio 46, Studio 55 and Studio 65.
About eInteractive:
eInteractive is a leader in high end home theater design and installation, whole-house distributed audio, lighting and shade control as well as home automation systems. When you're committed to the best entertainment systems, you know where to find us.
Whether you're a homeowner interested in installing some motorized shades, or a business owner in need of digital signage, eInteractive can help find the right solution for your technology needs. To learn more about their services, call (855) 41-SYSTEM today or learn more about our home theater and audio video website.