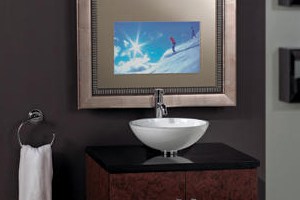 06 Apr

Why Our Clients Love Their Home Entertainment Systems

eInteractive has reshaped the home entertainment industry. With home theater setups, amazing Sonos speaker systems, automated lighting, security solutions, and a wide range of other incredible home enhancement systems, eInteractive consistently changes what it means to have premier home entertainment. Through the use of top-of-the-line technology and cutting-edge design, eInteractive revolutionizes user experience, but it's their complete, head-to-toe service that truly sets the company apart.

eInteractive envisions a world where every residence and company can boast high-end, interactive systems, from lighting to speakers to screens. The technology company is able to help achieve this by offering these three components of business:
Design: When you choose to install technology from eInteractive, the company will design, document, and plan an entertainment system unique to your home and needs. Every aspect, every product, and even price points will suit precisely your requirements.
Programming: Appearance, interface, and user-friendliness are crucial to eInteractive's home systems. You want a home design that looks as stunning as it works! Or perhaps, you'd like something subtler? That's why eInteractive's team of in-house programmers and designers work closely with the client to create their perfect home entertainment system.
Customer Support: Long-term client relationships are just a part of eInteractive's success. Satisfaction with product—veritable happiness—and extended maintenance come standard with each system eInteractive installs, and clients should expect "ongoing and preventative maintenance, system upgrades, and consultations on new innovations" throughout their relationship with the company.
By providing unparalleled customer service, envelope-pushing technology, and customized home entertainment systems, einteractive has set itself apart from the competition. If you're interested in learning more about how you can install unique home theater systems, speaker systems, home surveillance, and more from the top company in the industry, contact eInteractive.
About eInteractive:
eInteractive is a leader in high end home theater design and installation, whole-house distributed audio, lighting and shade control as well as home automation systems. When you're committed to the best entertainment systems, you know where to find us.
Whether you're a homeowner interested in installing some motorized shades, or a business owner in need of digital signage, eInteractive can help find the right solution for your technology needs. To learn more about their services, call (855) 41-SYSTEM today or learn more about our home theater and audio video website.