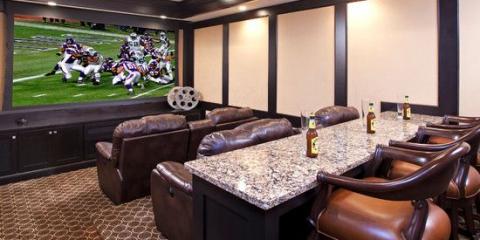 02 Sep

Are You Ready for Some Football?

As September arrives, there is a slight chill in the air that heralds the start of the holiday season. While most people have begun pre-planning Halloween costumes, perusing Thanksgiving recipes, and choosing Christmas gifts, I have only one date circled on my calendar: September 7th.

I've found no better way to spend the start of football season with family and friends than to stretch out at home, load up on snacks and drinks, and enjoy an event in my personal home theater.

With engulfing surround sound, comfy seats and lounges, sharp quality digital image projection, and the privacy of having it all within my own four walls, nothing can top the luxury of enjoying a watch party in the comfort of my own home. Along with the return of football season, so returns the roar of the face-painted crowds, the endless consumption of pretzels and potato chips, and the camaraderie (and competition) that we all feel when we sit down to watch that great American pastime.

In my case, I've grown tired of the packed sports bars filled with loud mouthed strangers and patrons that grow rowdy after a few too many, and I can't afford to follow my favorite teams around the country to experience the games live in packed stadiums, so I've turned my home into a sanctuary of worship for my favorite game.

Whether it's a blowout viewing for the whole team, a more intimate affair with a select few, or enjoying the highs and lows of the season solo, I won't be missing a single sack or touchdown experiencing a game in my own home theater. No more overcrowded bars and missed plays this year, I'll be watching from the best seats in the house.

About eInteractive:

eInteractive is a leader in high end home theater design, whole-house audio, lighting control and shade control as well as smart home automation. When you're committed to the best entertainment systems, you know where to find us.

Whether you're a homeowner interested in installing some motorized shades, or a business owner in need of digital signage, eInteractive can help find the right solution for your technology needs. To learn more about their services, call (855) 41-SYSTEM today or learn more about our home theater and audio video website.