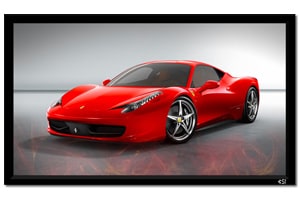 05 Jun

Beautiful Pictures…Projected in Your Home Theater

Home theater systems have always provided an unmatched entertainment experience inside your home or office. The excitement and relaxation offered by watching a movie within your own private space has become an even more enjoyable luxury thanks to enhancements in home theater systems.  You can find the latest and greatest at eInteractive in New York City, New Jersey, and Florida.

Today, home entertainment systems are equipped with projectors that have the technology and power of commercially available products. You'll be blown away by the enhancements:
Light-Rejecting Screens: With 85% light rejection, screens like Screen Innovations' Black Diamond (available through eInteractive) enable you to watch movies in spaces that may not be particularly dark. Their unrivaled versatility means you can use them in a variety of rooms.
Better Color, Horsepower & Contrast: Top of the line projectors offer picture quality that can't be matched. The functionality and aesthetic of today's projectors makes traditional ones obsolete.
4K and Laser Drivers: 4k resolution offers more detailed images for outstanding picture quality, and matched with laser drivers, provides truly beautiful resolution and color range along with no need to change a bulb. It makes maintaining your projector infinitely easier.
About eInteractive:
eInteractive is a leader in high end home theater design and installation, whole-house distributed audio, lighting and shade control as well as home automation systems. When you're committed to the best entertainment systems, you know where to find us.
Whether you're a homeowner interested in installing some motorized shades, or a business owner in need of digital signage, eInteractive can help find the right solution for your technology needs. To learn more about their services, call (855) 41-SYSTEM today or learn more about our home theater and audio video website.