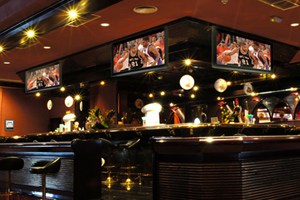 07 Aug

Change The Way Your Guests Experience Your Hotel

It's not science fiction, and it's not the future; smart entertainment, integrated technology systems, and innovative security solutions are here, and they're available from eInteractive. The industry leader in customized technology for homes, offices, and other businesses, eInteractive provides one-of-a-kind, state-of-the-art, personalized systems for buildings like yours every day. If you're a hotel owner, manager, or even employee, you understand how important the guest experience is to a successful stay. Learn more about how technology systems from eInteractive are revolutionizing the hospitality industry!

eInteractive is frequently regarded as one of the most sought-after companies for home entertainment systems, but they've always worked with large and small-scale commercial operations as well. The staff is widely experienced in "all technology levels of the hospitality market." The trained professionals have spent years planning and executing unique entertainment, lighting, HVAC, Audio/Visual control, energy management, and security systems—among others—that have changed user experience and employee interaction for the better.

Designing, planning, and installing systems based exclusively on your restaurant or bar's needs is what eInteractive does best. Whether you seek interactive television sets at your hotel sports bar, music systems the customer can't interfere with, or ways to take the restaurant's lighting from afternoon to evening, you'll find the necessary top-of-the-line equipment at eInteractive. After all, hospitality isn't a luxury; it's a necessity!

When you're ready to take your bar, lobby, or other parts of your hotel to the next level of service, contact eInteractive to see what the integrated technology company can do for you. Their systems will truly reinvent the way your hotel functions.

About eInteractive:

eInteractive is a leader in high end home theater design and installation, whole-house distributed audio, lighting and shade control as well as home automation systems. When you're committed to the best entertainment systems, you know where to find us.

Whether you're a homeowner interested in installing some motorized shades, or a business owner in need of digital signage, eInteractive can help find the right solution for your technology needs. To learn more about their services, call (855) 41-SYSTEM today or learn more about our home theater and audio video website.