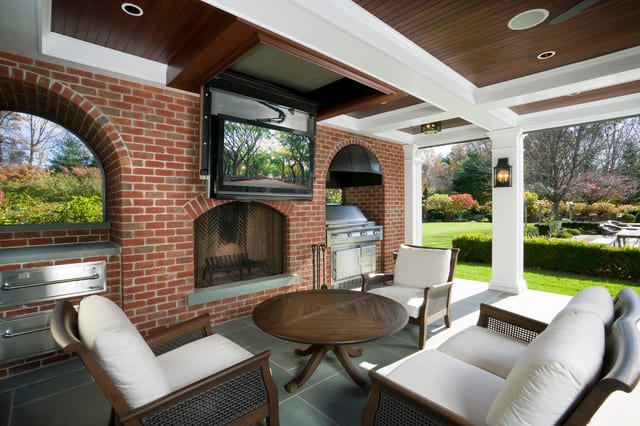 10 Jul

Creating the Ultimate Outdoor Summer Theater

I'm sure most of you are crazy about those late summer nights, and while spending the night in the backyard and taking in the nice weather is great, when swimming in the pool gets old, there can really be a lack of things to do. Luckily for you, we have some great tips on how you can turn your backyard into a home theater with the ultimate viewing experience.
5) Set up your Screen
Whether you have bed sheets or a professional screen to display your movie on setting it up is the first step to maximizing your outdoor theater experience. If you decide to use bed sheets as your screen, it is important to make sure that they are white, to be sure the color is best displayed on them, as well as they are ironed so that your viewers aren't stuck focusing on all the creases.
Once you've picked your screen type the next crucial step is deciding where you will place it. There are many places you could end up placing the screen but, wherever you place it, consider the area around, where you will be sitting, and where the projector will be, as those steps are coming up soon.
4) Projector Placement
Your projector is arguably the most important piece of the puzzle when it comes to designing your backyard theater. It is important that you have your projector adjusted at the right height, as well as the right distance to ensure the screen is completely filled, and on target.
Another thing to keep in mind is that this is all going on outside, so be cautious of leaving your projector outside when finished as the weather could very quickly damage your equipment if not stored properly.
3) Speaker Setup
One of the most memorable things about going to the movies is the sound. Without a good pair of speakers to complete the viewing experience, it won't be an experience. It is essential you have good audio, meaning at least 2 speakers that are able to produce enough sound for everyone viewing to hear.
2) The atmosphere
Something important to keep in mind is where will everyone be during the movie? Will the viewers be sitting on the lawn on top of a picnic blanket? Or will they be gathered around in their lawn chairs? Or maybe even viewing from the pool? It is important to keep in mind where everyone will be watching from.
As well as what is going on during the movie. For example you could be late night grilling burgers and dogs, or even making popcorn to complete the mood.
1)  Make sure it's dark
Last but certainly not least, it is absolutely essential that it be dark outside! Even with a high grade LED projector it is still important the sun has set and there are no lights in the nearby vicinity. A good way to help if you start viewing as the sun is setting, is to make sure the sun is behind your screen. In the summer it often doesn't start to get very dark until 9pm so it is very important to keep this in mind! The colors may be washed out if there is too much light so be sure it is dark.
About eInteractive:
eInteractive is a leader in high end home theater design and installation, whole-house distributed audio, lighting and shade control as well as home automation systems. When you're committed to the best entertainment systems, you know where to find us.
Whether you're a homeowner interested in installing some motorized shades, or a business owner in need of digital signage, eInteractive can help find the right solution for your technology needs. To learn more about their services, call (855) 41-SYSTEM today or learn more about our home theater and audio video website.