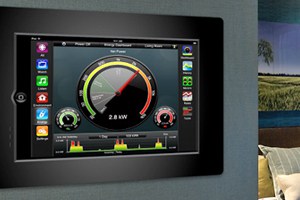 14 Oct

Energy Management Systems & Lighting Control

After you've installed your smart home systems from eInteractive, it's time you put them to amazing use. You're probably already treating the neighborhood to movies on your home theater system, stunning them with the image's clarity, protecting your family from home invasions with your covert security cameras, and keeping up the life of the party with in-wall audio systems. With every electronic appliance, edgy lighting system, and other seemingly energy-consuming item in place at your house, you may expect to see an increase in your bills. But you'd be surprised!

eInteractive's systems "sip," rather than guzzle up energy, so an energy management system will work best for every other appliance and/or device in the house.The purpose of an energy management system is to monitor and control your home's consumption of energy. That way, instead of being shocked by a sizable bill when the first month of summer rolls around, you'll be aware in advance of precisely how much energy your air conditioner was consuming, and how it looked compared to your audio systems, lighting control systems, and others.

With eInteractive's energy management systems, you'll be able to access a complete history of energy consumptionandan accurate, real-time analysis, so you're fully aware of what's eating up energy in your home. They tell you what items in your house draw the most energy, and when they do it. The energy management systems can also help you identify "phantom loads," such as when you have an iPod charger plugged into the wall; even without the iPod connected, the plug will siphon power!

When your compatible electronics and existing smart home systems are linked to your energy management center, you'll be able to make adjustments as necessary. Get your home back into line and within your budget in the process! Your wallet, and the environment, will thank you.

Love your smart house, but tired of being surprised by your bills? Install energy management systems from eInteractive, and know what you're getting!

About eInteractive:

eInteractive is a leader in high end home theater design and installation, whole-house distributed audio, lighting and shade control as well as home automation systems. When you're committed to the best entertainment systems, you know where to find us.

Whether you're a homeowner interested in installing some motorized shades, or a business owner in need of digital signage, eInteractive can help find the right solution for your technology needs. To learn more about their services, call (855) 41-SYSTEM today or learn more about our home theater and audio video website.