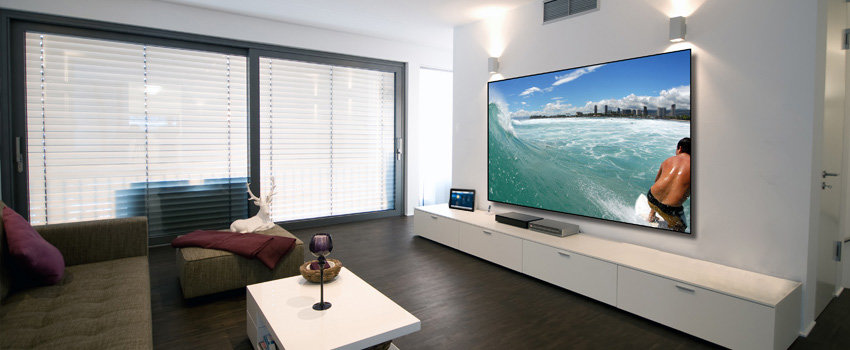 14 Aug

Experience Football Season Like Never Before

Posted at 16:57h

in

Digital Projection

,

Energy Management

,

High End Audio

,

Home Audio

,

Home Automation

,

Home Entertainment

,

Home Security

,

Home Theater

,

Home Theater Design

,

Lighting Control

,

Lighting Fixtures

,

Shade Control

,

Smart Home

,

Theater

,

TV

,

Whole House Audio

With the start of the NFL season just around the corner, there are a number of things you can do to make sure you're fully prepared for another year of fantasy leagues, playoffs, and the Super Bowl. Beyond setting up your league, restocking the guacamole, and keeping track of injury reports from training camp, the best preseason move that you can make is to upgrade your home theater system with eInteractive.

Turn your home into the number one viewing destination for you and your friends with the latest 4K television system. The 4K resolution is redefining the home viewing experience in the modern era and eInteractive is leading the charge by offering the highest quality 4K home theater systems on the market. You have never truly experienced an NFL Sunday until you've seen all the plays and hits on 4,000 crisp pixels. The 4K home theater system is without a doubt a game-changer and eInteractive features the most up-to-date selections for this most revolutionary viewing technology.

So where are you going to watch the game? Once you install your state-of-the-art home theater system from eInteractive, you and your friends will never have to ask that question again!

About eInteractive:

eInteractive is a leader in high end home theater design and installation, whole-house distributed audio, lighting and shade control as well as home automation systems. When you're committed to the best entertainment systems, you know where to find us.

Whether you're a homeowner interested in installing some motorized shades, or a business owner in need of digital signage, eInteractive can help find the right solution for your technology needs. To learn more about their services, call (855) 41-SYSTEM today or learn more about our home theater and audio video website.