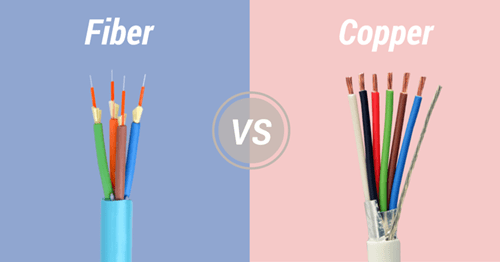 09 May

Fiber Optic Cabling VS. Cat6: Everything You Need To Know
What is Cat6 Cabling?
Cat6 cabling (also known as category 6 cabling) is a type of data cabling that is standard for Gigabit Ethernet and a few other network systems. As the 6th gen Ethernet cables are made from twisted sets of copper wiring, cat6 cables are made out of four sets of wires, similar to cat5 cables. The essential distinction between the two, however, is that cat6 makes complete use of every one of the four sets.
This is the reason cat6 can support connections at more than double the speed of cat5e, allowing for Gigabit Ethernet speeds of up to 1 Gbps. It is cat6's speed that has cemented it as a popular decision for VoIP communication, but unfortunately there are a couple of drawbacks. First of all, there are length limitations in utilizing this sort of data cabling. For example, when purposed for 10/100/1000BASE-T, the range is 100 meters, and when utilized for 10GBASE-T, the range is just a mere 55 meters.
Another issue is that there are some cat6 links that are bulky and are therefore very hard to connect with 8P8C connectors (a sort of modular connector used for telephone/ethernet jacks) when the client does not have a one of a kind modular piece.
What about Fiber Optic Cabling?
Sometimes referred to as optical fiber, fiber optic cable is totally unique from cat6. This is due to the fact that optical fiber works by drawing on light instead of electrical power as a method for transmitting signals. Light is the quickest method of transmitting any data as far as we know and also, fiber optic cabling has a much cleaner signal than regular copper cabling, meaning that it will inevitably run faster. Another fact about optical fiber is that it is immune to electrical interference.
This means that a user can run it pretty much anywhere, whenever they please. The immunity of light to resistance likewise permits fiber optic cabling to be kept running over great distances. Truth be told, it can be run nations apart with no requirement for boosting or cleaning the signal.
So which should you choose?
Cat6 has its advantages, most notably over Cat5e cables. Data exchanges are quick, and your bandwidth allotment is decently efficient. While Cat6 may suffice for the time being, fiber optic cabling is best described as the wave of the future. With the increasing requirement for more wireless devices, fiber optic cabling can make your internet considerably faster than even copper cabling, with data transfers of up to 100 Gbps.
These high speeds are perfect for watching videos in detailed qualities such as 4k and 8k which are becoming increasingly popular. In the event that your company regularly runs into times of high demand for internet, fiber optic cabling can keep you up and running with ease, making it the superior Cat6 when you have a need for speed.
About eInteractive:
eInteractive is a leader in high end home theater design and installation, whole-house distributed audio, lighting and shade control as well as home automation systems. When you're committed to the best entertainment systems, you know where to find us.
Whether you're a homeowner interested in installing some motorized shades, or a business owner in need of digital signage, eInteractive can help find the right solution for your technology needs. To learn more about their services, call (855) 41-SYSTEM today or learn more about our home theater and audio video website.