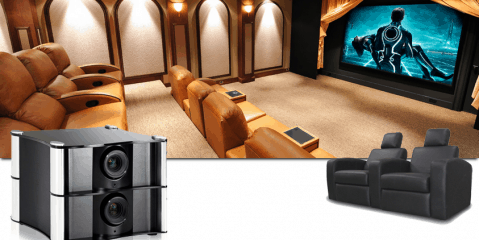 Get The Best Home Theater Audio Available From eInteractive

Have you upgraded your home entertainment system, but you're still looking for a high-end audio system that offers the perfect punch? At eInteractive they know that having a quality audio system can mean the difference between a good home entertainment system and a great home entertainment system, which is why they carry the latest cutting-edge equipment from Meridian Audio.

Meridian provides the highest-quality home audio systems with their unique high-end speakers. Unlike regular speakers, which use only one amplifier to produce sound, there is a separate amplifier built into each one of the Meridian speakers, creating an unparalleled listening experience. Their speakers are designed to produce the most life-like listening experience available. Whether you want to enjoy a string quartet, or watch the latest drama, their loudspeakers will make it feel like the action is happening in the room with you.

The speakers from Meridian come in a wide variety of shapes and sizes. Their contemporary look, coupled with the most advanced audio technology on the market, create the perfect addition to high-quality home theater systems. With most loudspeakers, there is often a delay in the sounds they produce. However, Meridian speakers utilize signal processing to realign sound frequencies, which eliminates any delay and enables all of the sounds they produce to come out of the speakers at the same time.

About eInteractive:

eInteractive is a leader in high end home theater design and installation, whole-house distributed audio, lighting and shade control as well as home automation systems. When you're committed to the best entertainment systems, you know where to find us.

Whether you're a homeowner interested in installing some motorized shades, or a business owner in need of digital signage, eInteractive can help find the right solution for your technology needs. To learn more about their services, call (855) 41-SYSTEM today or learn more about our home theater and audio video website.