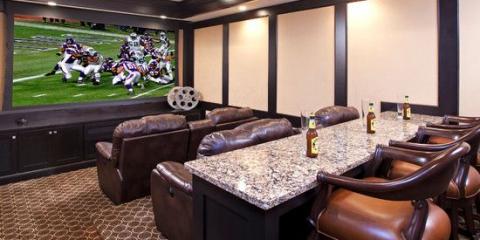 Get Ready For The Super Bowl With The Home Theater System Leaders

When it comes to the Super Bowl, it doesn't matter if your team is playing or not; there's just nothing like the excitement and electricity of the biggest game on the biggest stage. Of course, unless you're lucky enough to score tickets, you'll have to watch it on TV, which means either braving the crowds at a bar or watching from home. If wading through a mess of people isn't your cup of tea, you should consider having a home theater installed by eInteractive, the home entertainment system and energy management professionals serving New York, New Jersey, and Florida.

How can this company make Super Bowl unforgettable?
A Flawless Picture: The eInteractive team will help you select and install a high-powered projector to create a home theater experience like no other. The picture will be high-definition and sizable, so you, your family and friends can enjoy the action as if you were on the field.
All The Sounds: Complementing the picture, these experts will also install an audio system to match. Through calculated placement of high-quality speakers, you'll experience the sounds of the game in a crystal clear, immersive environment.
Innovative Customization: The technicians at eInteractive take pride in their ability to design home theater systems that optimize the entire experience. Furthermore, they'll help with customization so that, for example, everything can be controlled using your smartphone.

About eInteractive:
eInteractive is a leader in high end home theater design and installation, whole-house distributed audio, lighting and shade control as well as home automation systems. When you're committed to the best entertainment systems, you know where to find us.
Whether you're a homeowner interested in installing some motorized shades, or a business owner in need of digital signage, eInteractive can help find the right solution for your technology needs. To learn more about their services, call (855) 41-SYSTEM today or learn more about our home theater and audio video website.