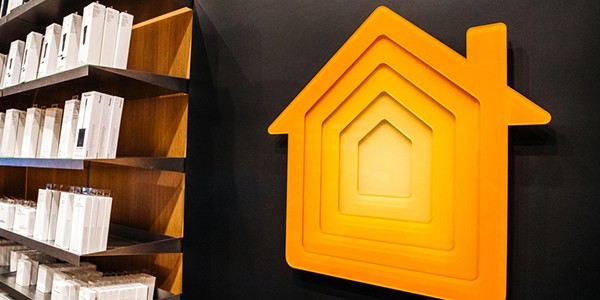 Home Sweet Apple Home

Calling all Apple device owners! Have your home and your iPhone unite with some new Apple HomeKit devices.

HomeKit devices are a necessity for Apple-using home-owners. You can control all of your smart home devices through one app on your iPhone, iPad, Apple Watch, or any other Apple device.

Have eInteractive install any HomeKit device from this list of devices you can choose from, and get immediate access through the Home app on your Apple device. Along with the list of devices, you could also always look out for the labels that indicate that the specific device is compatible with Apple HomeKit, such as the one below.
The Apple Home app acts as the main console for all of your smart devices which can be accessed by you and anyone else you give permission to straight from your mobile device. Apple HomeKit is completely safe, secure, and amazingly customizable.
Check out Apple's page for a more extensive demonstration of what Apple HomeKit does for you, at https://www.apple.com/ios/home/ and contact us once you decide to give your home equipment a nifty upgrade.
About eInteractive:
eInteractive is a leader in high end home theater design and installation, whole-house distributed audio, lighting and shade control as well as home automation systems. When you're committed to the best entertainment systems, you know where to find us.
Whether you're a homeowner interested in installing some motorized shades, or a business owner in need of digital signage, eInteractive can help find the right solution for your technology needs. To learn more about their services, call (855) 41-SYSTEM today or learn more about our home theater and audio video website.