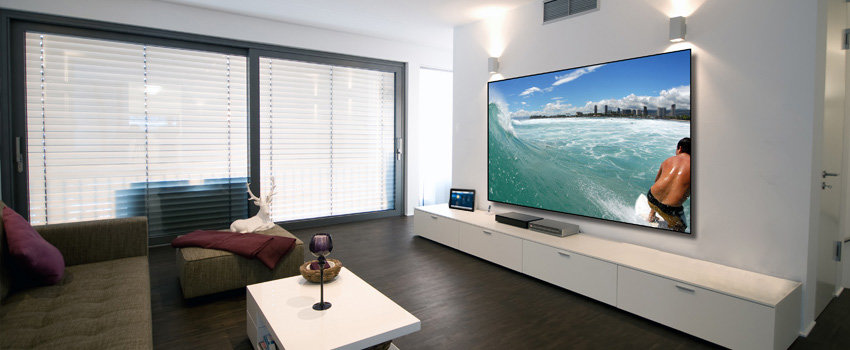 09 Jul

Hottest Place to Watch The World Cup? Your Home!

Posted at 16:59h

in

Digital Projection

,

Energy Management

,

High End Audio

,

Home Audio

,

Home Automation

,

Home Entertainment

,

Home Security

,

Home Theater

,

Home Theater Design

,

Lighting Control

,

Lighting Fixtures

,

Shade Control

,

Smart Home

,

Theater

,

TV

,

Whole House Audio

World Cup excitement is upon us, but the question remains: Where can you get the best viewing experience? If you can't travel to Brazil for the games, make your home the ultimate sport watching venue with a home theater system from eInteractive. With a projection system, you can have a crystal clear image much larger than the television at the local bar. Friends will be banging down your door to score a seat in your home theater.

With a custom home theater installation, eInteractive will create your ideal oasis for prime game viewing. From killer audio systems to cushy seating, your entire home theater system is customizable and run by you. Because there is no longer a need for controlled lighting, your projection television will still give crystal clear images for daytime game viewing in your sunny living room. So get as rowdy as you want for your favorite team without worrying about other customers or cranky bartenders. Watching the World Cup will be a pleasure when you're watching in the comfort of your own home with a custom home theater installation by eInteractive.

Never miss a game because of traffic or overcrowded bars. Put the World Cup in your home with a giant projection television in your home theater system from eInteractive.

About eInteractive:

eInteractive is a leader in high end home theater design and installation, whole-house distributed audio, lighting and shade control as well as home automation systems. When you're committed to the best entertainment systems, you know where to find us.

Whether you're a homeowner interested in installing some motorized shades, or a business owner in need of digital signage, eInteractive can help find the right solution for your technology needs. To learn more about their services, call (855) 41-SYSTEM today or learn more about our home theater and audio video website.