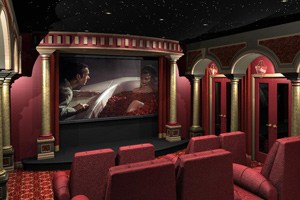 06 Oct

How to Change Your Viewing Experience At Home

Whether you prefer to cuddle up next to a portable record player on cold nights, or sync your iPod to time your workouts to your favorite tunes, there are so many ways to enjoy your music. Just when you thought you'd discovered them all, eInteractive changed the game. If you've ever considered installing a home entertainment system, this is the team you want on your side.

So how can eInteractive help customize your home?

You don't have to be a "speaker nerd" to know when you like the way something sounds. eInteractive will find the perfect products, design the ideal system, and create an overall home entertainment experience that you'll want to see as much as hear. High-quality speakers come in all sizes, shapes, and varieties, so clients are guaranteed the integrated technology system of their dreams. Big, small, indoor, outdoor, invisible, bold, in-wall, premier-yet-affordable or top-of-the-line: all audio systems are possible with eInteractive.

eInteractive is a certified dealer of Paradigm Speakers, as well as multiple other high-end speaker manufacturers. They'll work with every client and budget to design a suitable audio, surround-sound, or simple stereo system guaranteed to rock the house. "Striking the balance between quality and price" is what eInteractive does best – right after installing the technology that will truly change the way homeowners interact with their spaces.

About eInteractive:

eInteractive is a leader in high end home theater design and installation, whole-house distributed audio, lighting and shade control as well as home automation systems. When you're committed to the best entertainment systems, you know where to find us.

Whether you're a homeowner interested in installing some motorized shades, or a business owner in need of digital signage, eInteractive can help find the right solution for your technology needs. To learn more about their services, call (855) 41-SYSTEM today or learn more about our home theater and audio video website.