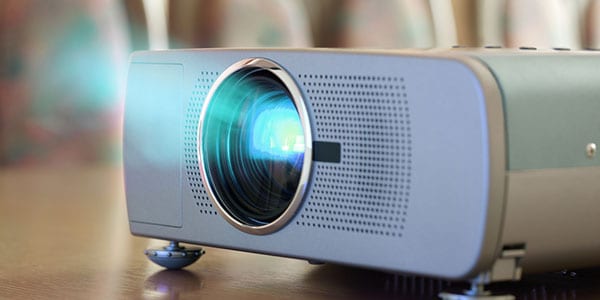 How To Shop For A New Projector

Whether you are looking to purchase a projector for a classroom, home theater, or a meeting room, it is vital to look into the specs of the projector that you are shopping for. Each projector comes with different specifications and different types of projectors are good for different types of room setups and what you are going for.
Resolution
First thing to look out for is image resolution. For better picture quality, you want to aim for higher resolution, while it's also not a bad idea to opt for lower resolution if picture quality is not your main concern.
For example, if you want full high definition quality for, let's say a home theater, you would want to opt for 1920×1080 pixels. This means that there are 1920 pixels, or dots, going across the screen vertically to make up your image, as well as 1080 pixels going down vertically, resulting in a total of 2,073,600 pixels making up the image on your screen.
On the other hand, if you are just looking to purchase a projector for the meeting room to display simple data, charts, and images/clips, you could look into a projector displaying at least 800×600 pixels. This results in lower resolution but most likely a much cheaper price.
Contrast Ratio
Another important specification to look out for when looking to purchase a projector is the contrast ratio. Contrast ratio is the difference between light and dark on a screen. For example, a projector with a 1000:1 contrast ratio means that the brightest white is 1000x brighter than the darkest black.
A high contrast ratio results in incredibly rich, clear detail. Contrast is vital to a home theater setup, where lighting plays a huge part.
For a more, extended and detailed guide on how to shop for the right projector, check out Epson's projector guide.
About eInteractive:
eInteractive is a leader in high end home theater design and installation, whole-house distributed audio, lighting and shade control as well as home automation systems. When you're committed to the best entertainment systems, you know where to find us.
Whether you're a homeowner interested in installing some motorized shades, or a business owner in need of digital signage, eInteractive can help find the right solution for your technology needs. To learn more about their services, call (855) 41-SYSTEM today or learn more about our home theater and audio video website.