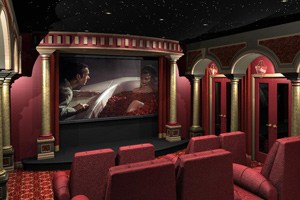 14 Nov

Make Football Season the Best with eInteractive

Posted at 16:54h

in

Home Audio

,

Digital Projection

,

Energy Management

,

High End Audio

,

Home Automation

,

Home Entertainment

,

Home Theater

,

Home Theater Design

,

Lighting Control

,

Lighting Fixtures

,

Shade Control

,

Smart Home

,

Theater

,

TV

,

Whole House Audio

Fans nationwide are celebrating everywhere- football season is back! Anyone who has ever watched the great American sport knows that when you get together with your friends to catch a game, it is not to talk about the onion dip. Don't leave your guests straining to hear the cracks of helmet-to-pad contact or pushing each other out of the way to see just how wrong the referee was on that last play. With eInteractive Homes, you can have an audio visual experience that will leave you and your friends with the best seats in the house.

With the regular season so close, eInteractive will outfit your home with surround sound television provided by some of the world's best and most trusted brands. With big names like Da-Lite, Sony, Panasonic, and Dragonfly, your home will look better than you ever dreamed. And don't forget, the perfect game viewing experience doesn't merely stop at a bigger and better TV. Really feel like you are in the game with improved home audio systems. You will have the opportunity to go beyond just owning some of the best speakers on the market such as Paradigm, Anthem, and Cinepro, and work with eInteractive to tailor fit your new home theater experience with the right speakers for your needs.

About eInteractive:

eInteractive is a leader in high end home theater design and installation, whole-house distributed audio, lighting and shade control as well as home automation systems. When you're committed to the best entertainment systems, you know where to find us.

Whether you're a homeowner interested in installing some motorized shades, or a business owner in need of digital signage, eInteractive can help find the right solution for your technology needs. To learn more about their services, call (855) 41-SYSTEM today or learn more about our home theater and audio video website.