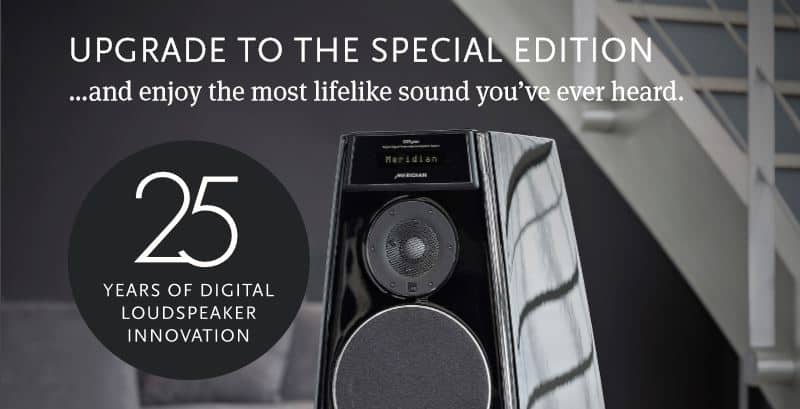 16 Sep

All New Meridian Speakers SE Upgrade

If you own a Meridian DSP8000, DSP7200 or most versions of the DSP5200, you can upgrade them now to the new Special Edition specification* – the most lifelike loudspeakers that Meridian has created to date.

Launched in honor of the 25th anniversary of the world's first digital loudspeaker, Meridian's D600 – the foundation of today's DSP Digital Active Loudspeakers – the Special Edition includes a wealth of innovations that will enhance your listening pleasure and your enjoyment of any kind of music: innovations that you, as an existing DSP Loudspeaker owner, can enjoy almost at once.
New Firmware with Enhanced Bass Alignment for perfect musical timing
New Meridian-designed Beryllium-dome tweeter for cleaner highs
New Wideband Electronics with added DSP: hear the best from high-res
New Loudspeaker System Warranty: 3–6 years on the entire loudspeaker
All the Special Edition enhancements work in concert to create the most authentic and lifelike-sounding loudspeakers Meridian has ever offered.
Here's how to upgrade To gain all the benefits outlined above, simply contact us for full details, pricing, and to order your upgrade. Or arrange a demonstration of the Special Edition and hear what you're missing.
Meridian's Special Edition – innovations you can really hear
Order your upgrade today – your music is waiting!
About eInteractive:
eInteractive is a leader in high end home theater design and installation, whole-house distributed audio, lighting and shade control as well as home automation systems. When you're committed to the best entertainment systems, you know where to find us.
Whether you're a homeowner interested in installing some motorized shades, or a business owner in need of digital signage, eInteractive can help find the right solution for your technology needs. To learn more about their services, call (855) 41-SYSTEM today or learn more about our home theater and audio video website.