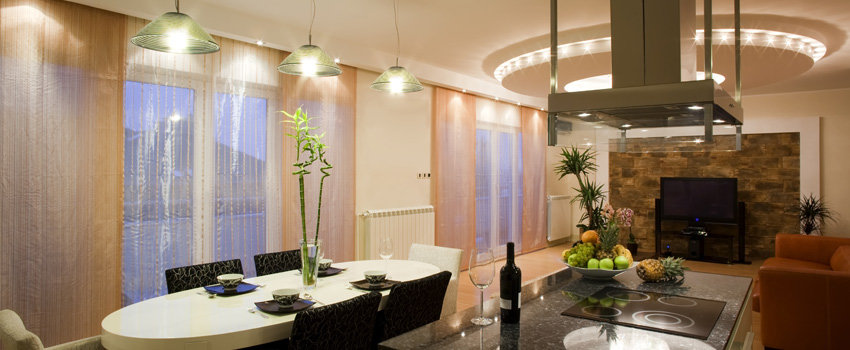 24 Jul

Practical & Luxurious Lighting Control

If you've learned about integrated home technology systems from eInteractive, and find a high-powered home theater or high-tech surveillance plan a little "flashy," you may be surprised to hear that those aren't your only options. When you're looking for a practical solution to your everyday needs as a homeowner, eInteractive can help you as well! Among their many customizable plans for improving local residences, eInteractive offers a singularly useful system: lighting control. Blending the luxury of a home entertainment system, the extravagance of top-of-the-line technology, and the necessity of lighting and shade control at affordable prices, eInteractive's options for lighting control "will change the way you experience your home."

Here are three reasons clients choose home lighting control services from eInteractive:
Energy: By installing dimmers, automated curtains, and motion sensors that adjust the lighting based on how much time has elapsed since a person has been in the room, studies show you'll save up to a whopping 30% on electricity usage. Conserve energy and save your money, all without having to so much as remember to flip the light switch.
Security: When you choose lighting installation, you automatically have the option to pre-program all of your settings. Turning lights on and off, adjusting the height of curtains, and enabling motion sensors will protect your home 24/7, whether you're on vacation or just upstairs.
Convenience: Simple, efficient, and easy-to-use, this all-in-one lighting control system makes living in your home easier than ever. Safety, security, conserved energy, decreased bills, and less stress of yelling after the kids to turn the lights off. It's the home and lifestyle of the future – but it can be yours now!
Install complete lighting systems from eInteractive, and add your reason to the list. Contact eInteractive for your first consultation, and you'll be on the path to home enhancements in no time.
About eInteractive:
eInteractive is a leader in high end home theater design and installation, whole-house distributed audio, lighting and shade control as well as home automation systems. When you're committed to the best entertainment systems, you know where to find us.
Whether you're a homeowner interested in installing some motorized shades, or a business owner in need of digital signage, eInteractive can help find the right solution for your technology needs. To learn more about their services, call (855) 41-SYSTEM today or learn more about our home theater and audio video website.