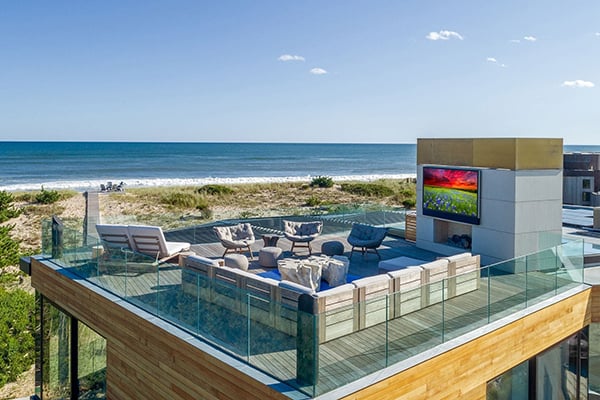 09 Aug

Séura – Finish Your Backyard With An Outdoor TV

From quiet backyard movie nights to neighborhood tailgate parties, outdoor TVs provide some of the greatest outdoor entertainment. Buying a nice 4K TV and setting it outside can be a potential recipe for disaster, as weather conditions are unpredictable and sunlight can cause too strong of a glare for anyone to see what's on screen.

And that's how a company like Séura comes to the rescue with their beautiful outdoor TVs. With Séura TVs, you're not just getting the impeccable 4K display and powerful sound systems that you can get anywhere, you're also getting TV and sound systems that can withstand extreme temperatures and weather conditions. Anything from rain, snow, to dust, Séura devices are engineered to endure anything nature throws at them.

Aside from the weatherproof features, Séura TVs have screens that are three times brighter than indoor TVs. There's a Séura TV for any kind of backyard setting, whether it be a shaded patio or sitting poolside in the sunlight. No matter what your setup is, Séura TVs will undeniably deliver the best picture quality.

About eInteractive:

eInteractive is a leader in high end home theater design and installation, whole-house distributed audio, lighting and shade control as well as home automation systems. When you're committed to the best entertainment systems, you know where to find us.

Whether you're a homeowner interested in installing some motorized shades, or a business owner in need of digital signage, eInteractive can help find the right solution for your technology needs. To learn more about their services, call (855) 41-SYSTEM today or learn more about our home theater and audio video website.