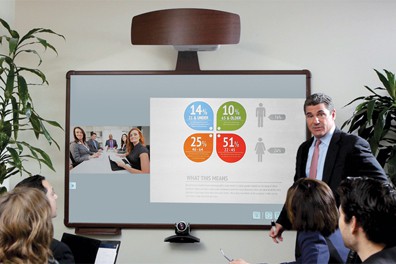 29 Mar

Take Your Company The Next Digital Age

For every incredible, life-changing, monumental presentation you or a co-worker experienced, there have been an infinite number of boring, excruciatingly dull presentations you've simply endured. In 2014, should you still be offering presentations on a dirty projector, or on a pull-down screen with an off-center PowerPoint projected onto it? Probably not. Detach your laptop from the projector. It's time to rethink how you present your company to clients, to other businesses, and to the modern world. You'll learn precisely how you can do that by calling eInteractive.

When you choose eInteractive to help rework your presentation system, you'll receive more than tips and advice for putting your best presentation forward. eInteractive works with clients to develop a complete technology overhaul. They understand that when businesses, no matter how large or small, need to communicate, they want to do it not just effectively, but in style.

Contact eInteractive, and begin creating your own innovative presentation space. From screens and lights to seats and sound, the company will install it all. Choose the name-brand products that suit your project's budget and needs for a truly customized, wholly integrated presentation system unlike anything you've seen before. Whether demonstrations are a daily part of your office's routine, or an annual event, use them to make an impact on your fellow professionals.

Don't just "give" a presentation – capture your audience! Hold their attention and make your point stick. Design your own, unique, "stunning" commercial presentation system with eInteractive today.

About eInteractive:

eInteractive is a leader in high end home theater design and installation, whole-house distributed audio, lighting and shade control as well as home automation systems. When you're committed to the best entertainment systems, you know where to find us.

Whether you're a homeowner interested in installing some motorized shades, or a business owner in need of digital signage, eInteractive can help find the right solution for your technology needs. To learn more about their services, call (855) 41-SYSTEM today or learn more about our home theater and audio video website.