The Best Smart Lighting For Your Home

Posted at h

in

Bergen County

,

Energy Management

,

Home Automation

,

Home Entertainment

,

Home Theater

,

Home Theater Design

,

Lighting Control

,

Lighting Fixtures

,

Smart Home

,

Theater

,

TV
Smart Table Lamps
Smart table lamps are best for setting the mood with some color. Place these on a table or nightstand for special effect. They can even be synced to music or used as visual reminders to keep you on schedule. Smart table lamps can also be used as a nightlight to help you or a little one sleep better.
Recommended smart table lamps include the Amazon Echo Glow, which is super user-friendly and best suited for kids. These specific lamps require a compatible Alexa device and can be operated using voice commands.
The Philips Hue Go is another great example of a smart table lamp for it's rechargeable battery, making it completely portable. The Hue Go works with Bluetooth and or the Hue Bridge so it can be controlled from anywhere using your smartphone, Alexa, Google Home, or Siri.
Smart Panel Lights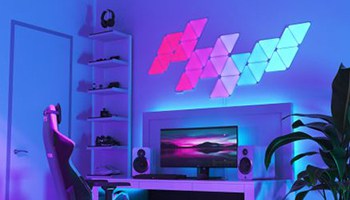 Give your space a super cool, artistic look with smart panel lights. The main purpose of these is for the eye-catching effect it adds to a bedroom, living room, or any social spot. Smart panel lights can be controlled by either pressing directly on the panel, using voice commands, or through the associated app on your smartphone.
There are plenty of cheaper alternatives you can find in stores or online but if you're looking to really get artistic with designs, Nanoleaf is your best bet. Their top products include Shapes, which come in the form of colored hexagonal or triangular panels, or Elements, which come in the form of wooden-like panels.
Smart Light Strips
Smart light strips make for beautiful outlines around bedrooms, living rooms, kitchens, cabinets, TVs and more. They add the perfect amount of ambient lighting to the rooms while also, in some cases, add the right amount of LED colors.
Smart light strips vary vastly in prices, going from under $50 with the Govee Wi-Fi RGBIC LED Strip Light to about $80 with the Philips Hue Bluetooth Smart Light Strip Plus. With many other options, including the LIFX Lightstrip Color Zones. These light strips offer bright light and work with Bluetooth and Wi-Fi. Some also support voice control via Amazon Alexa, Google Assistant, and Apple Siri.
Smart Bulbs
Smart bulbs can replace any light bulb you have in your home with something that can be operated using your smartphone or voice assistants. In some cases, these light bulbs can even change color or light warmness.
One of the most popular smart light bulbs in the market right now include the Philips Hue White And Color Ambiance for their functionalities and ease of use. However, there are less expensive alternatives like the Wyze Bulb, which comes at as low as $15 each (less if you order packs of them). Smart bulbs even vary in styles, like the old-school looking filament bulbs such as the Kasa Filament Wi-Fi Light Bulb for as low as $10 for "Edison bulbs" that connect to your phone.
About eInteractive:
eInteractive is a leader in high end home theater design and installation, whole-house distributed audio, lighting and shade control as well as home automation systems. When you're committed to the best entertainment systems, you know where to find us.
Whether you're a homeowner interested in installing some motorized shades, or a business owner in need of digital signage, eInteractive can help find the right solution for your technology needs. To learn more about their services, call (855) 41-SYSTEM today or learn more about our home theater and audio video website.