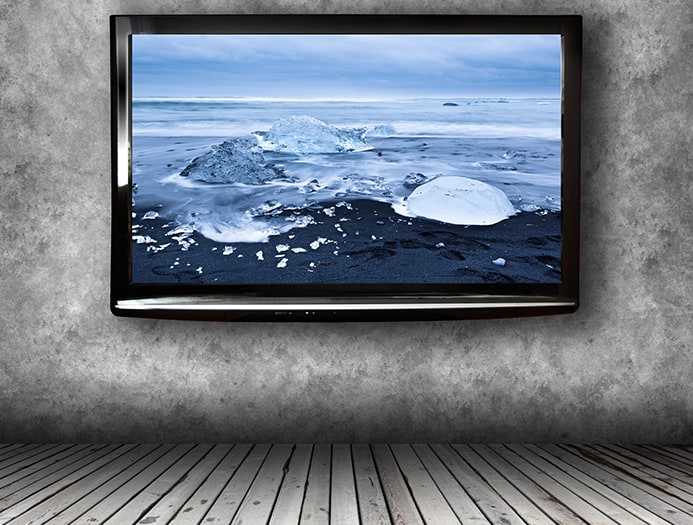 06 Nov

How To Pick The Best Height And Size For Your TV
Tips and Tricks For Optimizing Your TV Height and Distance
If you're new to the home theater scene there are probably a million questions swirling around in your head, ranging from sound to lighting, but one thing you probably haven't thought about is the height and distance your TV is away from your viewing area.
It may seem a little daunting at first to try and pinpoint the exact location your display should be in, but rest assured that the tips on this list are designed to do just that.
Should I Put My TV On A Stand or Mount It?
Putting your TV on a stand may seem like the easy way to go when setting up your home theatre, but if you take a second to weigh the pros and cons, getting a wall mount for your TV may not seem like such a bad idea.
Firstly, when you wall mount your TV you're opening up many doors in terms of designing your home theatre. Mounting provides a snug compartment for your speakers to sneak into making your home theater design look both modern and stylish. Just make sure you have a space nearby to stash all of your cables for the ultimate home theater aesthetic.
What Is The Best Viewing Distance? How Big Should My TV Be?
When discussing how big your TV should be, the second thing you should be thinking about is the best view distances for your TV, since these two elements go hand and hand with each other. Luckily, we've compiled a list of distances corresponding to TV size:
26″ screen = 3 to 5.5 feet
32″ screen = 4 to 6.5 feet
37″ screen = 4.5 to 7.5 feet
40″ screen = 5 to 8.5 feet
46″ screen = 6 to 9.5 feet
52″ screen = 6.5 to 11 feet
58″ screen = 7 to 12 feet
65″ screen = 8 to 13.5 feet
70″ screen = 9 to 15 feet
If you feel like you need a distance to specifically accommodate a certain type of screen size, a good strategy is to multiply the diagonal length of the TV by 2.5 to get optimal viewing distance. On the other hand, if your TV is high definition change the multiplier to 1.5. As for how high your TV should be off of the ground, 42 inches is the generally agreed upon height for comfortable eye level viewing.
About eInteractive:
eInteractive is a leader in high end home theater design and installation, whole-house distributed audio, lighting and shade control as well as home automation systems. When you're committed to the best entertainment systems, you know where to find us.
Whether you're a homeowner interested in installing some motorized shades, or a business owner in need of digital signage, eInteractive can help find the right solution for your technology needs. To learn more about their services, call (855) 41-SYSTEM today or learn more about our home theater and audio video website.